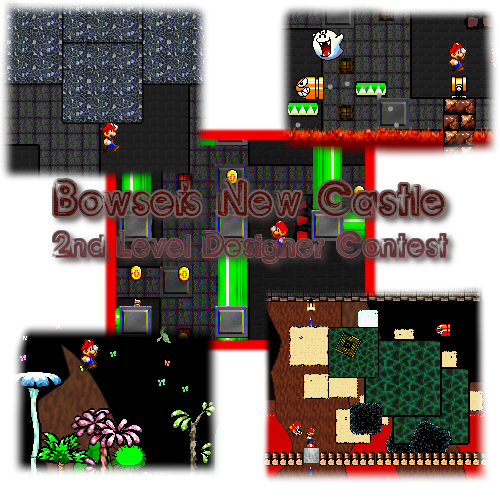 From top left, clockwise: Bowser's New Castle by fourinone (3rd place, 16/20), Bowser's Castle by Trogdor (2nd place, 17/20), Bowser's Volcano Lair by Krazy321 (joint 1st place, 18/20), Bowser's New Castle by barnecade (3rd place, 16/20).
Winner (centre): Bowser's New Castle by 24murph. (18/20)
LDC Details
Edit
Number: 2nd LDC
Name: Bowser's New Castle
Thread Link: Here
Vault Link: None (before we started using vaults)
Awards Post: Here
Run by: Superyoshi (Suyo)
Number of Entrants: 16
Number of Pages of Posts: 11
Contest Started: July 29, 2009
Final Deadline: August 9, 2009 (11 Days)
Awards Posted: August 23, 2009 (14 Days)
Judges:
Final Levels by Score
Edit
Unfortunately, the score list was stored off-site, and is now lost to the mists of time. All we have left of the scores is from the awards post:
Also entered:
This far back, the levels were PM'd to the host, and the host posted them. In this case, Suyo posted the levels as host, and as a result, a number of entrants never posted even once in the thread.