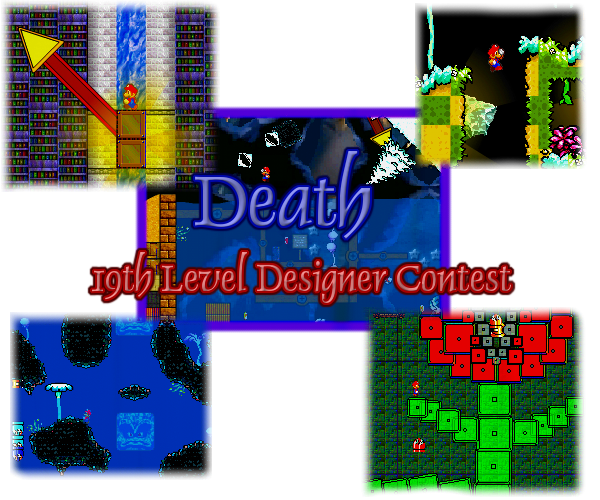 From top left, clockwise: Memory Lane by MessengerOfDreams (3rd place, 15.5/20), Death and Life by skjung2034 (4th place, 15.44/20), You Can't Escape Death by BrawlerEX (2nd place, 16.13/20), An Innocent Endeavour by Volkove (5th place, 14.75/20).
Winner (centre): An Act of Antichesm by ~MP3 Amplifier~ (17.25/20).
LDC Details
Edit
Number: 19th LDC
Name: Death
Thread link:: here
Vault Link: here
Awards post: here
Run by: (brandobrawl) - Awards by

MessengerOfDreams

R
Number of Entrants: 10
Number of Pages of Posts: 23
Contest Started: April 13th, 2012
Final Overall Deadline: May 12th, 2012 (29 days)
Awards Posted: May 18th, 2012 (6 days from overall deadline)
Judges:
Final Levels by Score
Edit
Place
Score
Level
Designer
1st
17.25
An Act of Antichesm (miniseries)

~MP3 Amplifier~

R L
2nd
16.13
You Can't Escape Death (miniseries)
BrawlerEX
3rd
15.5
Memory Lane

MessengerOfDreams

R
4th
15.44
Death and Life
skjung2034
5th
14.75
An Innocent Endeavour (miniseries)
Volkove
6th
13.31
Lethal (unfinished miniseries)
Asterocrat
7th
13.13
Haunted Graveyard
SomeOne
8th
13
Casualties of War (miniseries)
Harmless
9th
12.25
Life, Death or Worse (miniseries)
Nwolf and Karyete
10th
8.41
--too long to fit in here--
KevinOC
Finally he's done it. Finally he managed to make a subpar work, and finally he got his long-desired 5th place. With this, Volkove became the first person to achieve the Grand Slam (placing in all the positions from 6th to 1st). Also, MP3 became the first (and only) girl to win an LDC.
There was a rather high percentage of multi-part entrants in this LDC. In fact, 6 out of 10 entries were miniseries.
Nwolf's and Karyete's collaboration became the least successful one in history with a score of "oof. -_x" (12.25).