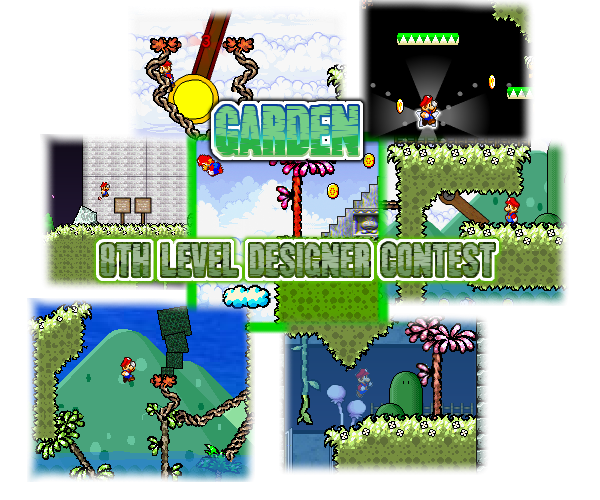 From top left, clockwise: Garden in the Sky by StarF (6th place, 14.7/20), The Secret of the Garden by Blakunosi (3rd place, 15.75/20), Garden Revisited by MICrophone (4th place, 15.67/20), A Dark Garden by Worst_master (5th place, 15/20), Garden of Life by Volkove (4th place, 15.67/20), It's A Garden by Buff_ (2nd place, 16.16/20). Winner (centre): Garden in the Clouds by Cryokenetic. (16.68/20)
LDC Details
Edit
Number: 8th LDC
Name: Garden
Thread Link: Here
Vault Link: None (before we started using vaults - Entrant Recap 1st post)
Awards Post: Here
Run by: fourinone - Awards by MessengerOfYaweh (MessengerOfDreams)
Number of Entrants: 19
Number of Pages of Posts: 47
Contest Started: May 20th, 2010, 11:41 pm
Final Overall Deadline: June 20th, 2010 (31 Days)
Last Extension Ended: July 17th, 2010
Awards Posted: August 8th, 2010 (49 Days from overall deadline)
Judges:
Final Levels by Score
Edit

Noone was disqualified in this contest.
This was another contest plagued with issues. This time, we had both the main host disappear, and several judges back out mid-contest.
Kimonio's Grand Gardens is, and probably ever will be, the longest miniseries ever submitted, consisting of 6 parts.
Cryokenetic was the third last user to win straight away with his first entrant. Unfortunately he left the site not even a month after his win.