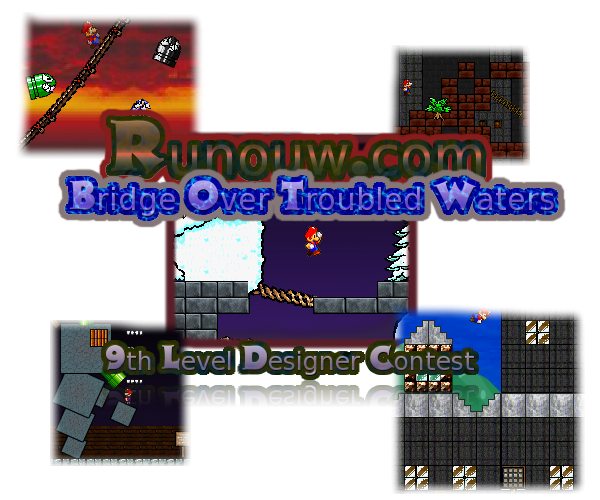 From top left, clockwise: The Road to Runouw.com by MICrophone (2nd place, 14.75/20), Waste by Buff_ (5th place, 13.33/20), Runouw.com by nin10mode (3rd place, 14.5/20), The Invasion of the Spambots by UsuarioTHf (4th place, 14/20).
Winner (centre): Paradox Bridge by Volkove (17.5/20).
LDC Details
Edit
Number: 9th LDC
Name: Runouw.com and Bridge over Troubled Waters
Thread Link: Here
Vault Link: None (before we started using vaults - Entrant Recap 1st post
Awards Post: Here
Run by: MessengerOfDreams - Awards by MICrophone)
Number of Entrants: 10
Number of Pages of Posts: 26
Contest Started: July 7th, 2010, 5:56 pm 
Final Overall Deadline: August 30th, 2010 (55 Days)
Last Extension Ended: September 25th, 2010
Awards Posted: September 25th, 2010 (26 days from overall deadline)
All judgings are within the results post, however, MegaR only sent scores, no reviews.
Final Levels by Score
Edit
Disqualified:

Note:
Many people had extensions, so the recap posts don't show all the entries. You'll have to look through further pages to view the levels of MoD/YB/Ven (page 16), nin10mode (page 19) and Buff (page 22).
This is the first LDC with two themes to be offered. The second theme, Bridge Over Troubled Waters, was offered later when the deadline was extended due to lack of participants, but only Volkove did it.
The level of MessengerOfDreams, Venexis and Yoshi Boo 118 both marks the first collab level and the only triple collab so far in history.
Volkove's win with a lead of 2.75 points marks the highest discrepancy between first place and second place.
Dark Lord alias Killswitch met the very unlucky fate of suffering the largest discrepance between judgings in history, with Blab's 18/20 as his highest and Chau's 6/20 as his lowest score. Chau continued his tradition of unfairly low ratings from the 6th LDC with this - he deducted more than 10 points in total for the sole reason of lag.