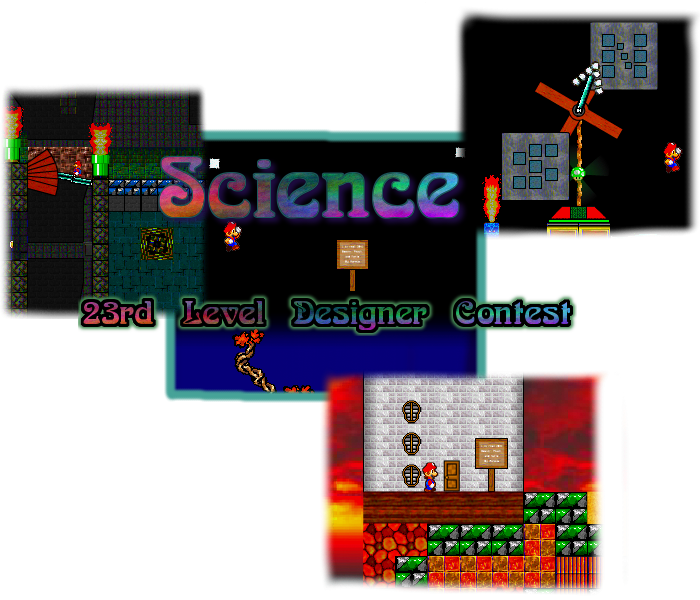 From top left, clockwise: Fear Factory by Volkove (3rd place, 15.56/20), Weather Works by Triple J (4th place, 15.34/20), Hall of the Editor by JSlayerXero and NanTheDark (2nd place, 15.88/20).
Winner (centre): The Science War by ~MP3 Amplifier~ (16.44/20).
LDC Details
Edit
Number: 23rd LDC
Name: Science
Thread link:: here
Vault Link: here
Awards post: here
Number of Entrants: 6 (plus Kevin as joke entrant)
Number of Pages of Posts: 20
Contest Started: January 21st, 2013
Final Overall Deadline: March 1st, 2013 (39 days)
Awards Posted: March 22nd, 2013 (21 days from overall deadline)
Judges:
Final Levels by Score
Edit
Place
Score
Level
Designer
1st
16.44
The Science War (miniseries)

~MP3 Amplifier~

R L
2nd
15.88
Hall of the Editor
JSlayerXero and NanTheDark
3rd
15.56
Fear Factory
Volkove
4th
15.34
Weather Works
Triple J
5th
14.08
Biological Research Center
1018peter
6th
11.88
The Lost Dimension (miniseries)
Dtroid
7th
NaN
Science?
KevinOC
MP3 obtained this LDC to host because 23 is her lucky number, and she became the first host to win their own LDC.
The theme was a little abstract, and there was the smallest crowd of entrants so far with only six plus Kevin. Generally, it was a rather quiet LDC with 20 pages only after the rumblings in the previous LDC.
But still, some of them were quite unique entries, e.g. Hall of the Editor being sort of a gallery for LDing science and Weather Works showing very impressive and innovative effects. On the other hand, Peter submitted the probably most complex single-entry in history, and got quite controversial scores for it, therefore unfortunately missing a placement.