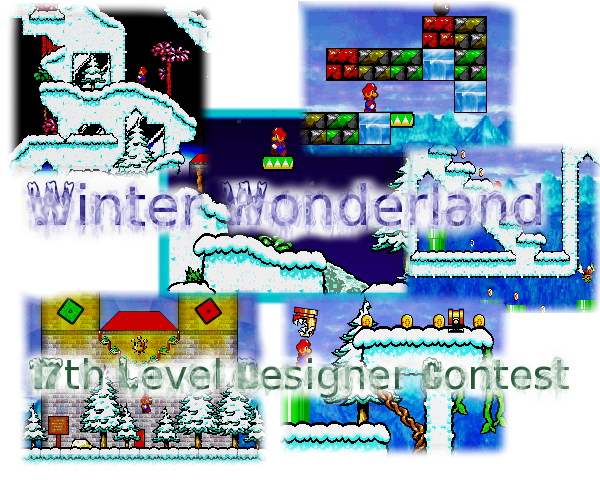 From top left, clockwise: The Roaming Celsius Luminary by MessengerOfDreams (2nd place, 16.08/20), Nwinter by Nwolf (3th place, 14.31/20), Snow Zone by ~Yoshi~ (4th place, 14.29/20), The Silver Star Shiver by Karyete (5th place, 14.25/20), Journey to the Arctic by ~MP3 Amplifier~ and SuperMIC (2nd place, 16.08/20).
Winner (centre): Frost Glade by DarkBlaze (16.22/20).
LDC Details
Edit
Number: 17th LDC
Name: Winter Wonderland
Thread link:: here
Vault Link: here
Awards post: here
Run by: Volkove
Number of Entrants: 12
Number of Pages of Posts: 21
Contest Started: December 7th, 2011
Final Overall Deadline: January 3rd, 2012 (27 days)
Awards Posted: January 22nd, 2012 (19 days from overall deadline)
Judges:
Final Levels by Score
Edit
Place
Score
Level
Designer
1st
16.22
Frost Glade
Vesoralla (DarkBlaze)
2nd
16.08
The Roaming Celsius Luminary

MessengerOfDreams

R
2nd
16.08
Journey to the Arctic (miniseries)

~MP3 Amplifier~

R L
3rd
14.31
Nwinter (miniseries)
Nwolf (Nworlds)
4th
14.29
Snow Zone
~Yoshi~ (Yoshi999)
5th
14.25
The Silver Star Shiver
Karyete
6th
14.18
Snow Road
MushYoshi
7th
13.63
Snow Bliss
White_Yoshi54 (AzErOtH)
7th
13.63
Up the Mountain
Kirby859
8th
12.96
FrostBitten!
GMDragon11
9th
12.83
Ebenezer Mario
skjung2034
10th
12.3
Holiday Island
KevinOC
For his countless merits for the level designing scene, Volkove was revarded to become the first normal user to host an LDC.
After MP3 was close to losing all self-confidence after closely missing a ribbon three times in a row, a lucky collab with SMIC brought her into second place, and this was the initial of a fabulous streak, placing continuously until the 25th LDC.
Except from the 14th LDC (where it was the theme), DarkBlaze was the first one to win with a solely platforming-based level after a long time (being described as a DKC-atmospheric level).
KevinOC, gaining notoriety later for his "bloodcurdling" joke entries, has the record of the highest scoring last place (aside from mini-LDCs).